Skip to Content
NEPMA Mark Weintraub Scholarship
NEPMA Mark Weintraub Scholarship
About the Award: Each year NEPMA awards a $3,000 scholarship in honor of Mark Weintraub. This scholarship was started and first funded by Rod Kreimeyer in 1994. Rod named the scholarship in honor of Mark Weintraub of Astor Terminix who was a founding member of NEPMA and Rod's employer and mentor. This scholarship is awarded to the student connected to an NEPMA member who best exemplifies the spirit carried forward by Mark Weintraub.
Applications are due annually on February 1st. Nominate a deserving candidate today!
Any employee or family member of an NEPMA member company is eligible. Contact nepma@pestworld.org with any questions.
The judging process is double-blind. All nominations are stripped of any identifying information (name, location, company affiliation, etc.) and put into a scoring sheet. Judges score the nominations based on the following criteria and weights:
Up to 250 word essay on "What the pest control industry means to me" 30%
Up to 250 word essay on "My plans for the future" 50%
Job History 10%
Community Service & Awards 10%
The NEPMA Mark Weintraub Scholarship is presented at the annual Spring Training in March.
The $3,000 check is made directly to the school in the spring semester.
The 2023 scholarship recipient is Julivette Gibbs.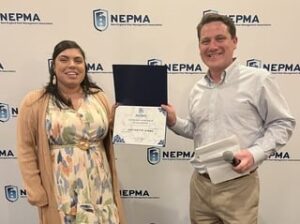 Julivette Gibbs has a passion for what our industry needs most: finding, hiring, and retaining great people. She is working towards a degree in Business Administration: Human Resources Management at Bay Path University. Julivette is a mother, full time employee for Modern, volunteer, book club enthusiast, and a college student. In her application she wrote "Although I am considered a "non-traditional" student, I like to think that in this generation non-traditional is the norm."
To this end, it's true that this scholarship has gone mostly to high school students, but norms are kind of a thing of the past. The scholarship committee was inspired by Julivette's goals which include creating policies and procedures that help promote opportunities for minorities and people with disabilities and encouraging people to apply for the positions we have in our industry that have, in the past, been held by mostly men.
I think we can all relate to what she wrote about our industry "Pest control plays a vital role in both health and sanitation. Working in customer service for pest control, I corresponded with many clients. Families calling in for service due to severe allergies or infestations in a panic. Businesses calling in with the Department of Health ready to shut down their dreams. To me, that means significance and importance. That pest control is in place to help families and business live without fear.
Past Recipients
| | | |
| --- | --- | --- |
| 2023 | Julivette Gibbs | Bay Path University |
| 2022 | Nick Spigler | Washington College |
| 2021 | Madelyn Padellaro | Merrimack College |
| 2020 | Casey Sheehan | Merrimack College |
| 2019 | Timmarie Gallagher | |
If you would like to support these programs please consider making a donation to New England PWIPM or the Mark Weintraub Scholarship Fund. Contact nepma@pestworld.org for more information or donate to the scholarship fund online here.