Skip to Content
NEPMA Mark Weintraub Scholarship
NEPMA Mark Weintraub Scholarship
About the Award: Each year NEPMA awards a $3,000 scholarship in honor of Mark Weintraub. This scholarship was started and first funded by Rod Kreimeyer in 1994. Rod named the scholarship in honor of Mark Weintraub of Astor Terminix who was a founding member of NEPMA and Rod's employer and mentor. This scholarship is awarded to the student connected to an NEPMA member who best exemplifies the spirit carried forward by Mark Weintraub.
Applications are due annually on February 1st. Nominate a deserving candidate today!
Any employee or family member of an NEPMA member company is eligible. Contact nepma@pestworld.org with any questions.
The judging process is double-blind. All nominations are stripped of any identifying information (name, location, company affiliation, etc.) and put into a scoring sheet. Judges score the nominations based on the following criteria and weights:
Up to 250 word essay on "What the pest control industry means to me" 30%
Up to 250 word essay on "My plans for the future" 50%
Job History 10%
Community Service & Awards 10%
The NEPMA Mark Weintraub Scholarship is presented at the annual Spring Training in March.
The $3,000 check is made directly to the school in the spring semester.
The 2022 scholarship recipient is Nick Spigler.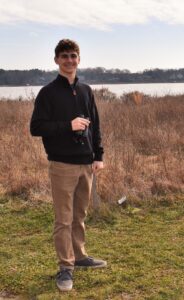 Nick Spigler is a senior at North Harford High School in the Natural Resources in Agricultural Science Magnet Program. Nick has always loved everything about the outdoors, especially since his Dad introduced him to the world of insects since he was a baby. His primary passion is birds, as he has focused his studies thus far in this field by volunteering at a local bird banding station to work toward earning a banding sub-permit, analyzing 40 years of bird banding data for his Senior Captone Research Project, and sharing his passion with other members of the birding community through participation in Harford Bird Club. He has also volunteered at the Harford Glen Outdoor Education center that conducts 3-day sessions for fifth-grade students in Harford County Public Schools, educating them about environmental stewardship. Nick is proud of his accomplishments on his high school Envirothon team as well, being a member of the 5th Topic Presentation team, and serving as their wildlife expert. When he's not outside exploring, Nick stays busy competing with his cross-country team, swim team (swimming butterfly, of course!) and will be competing on the track & field team this spring. He also works two part time jobs, including being team lead at Rita's and serving as a park attendant for the Parks & Recreation department at Flying Point Park. Nick prides himself on his exceptional academic record, maintaining a 4.77 GPA and is hopeful we will graduate in the top 3% of his class in June. While Nick has been accepted to many 4-year colleges for this fall, he is still carefully considering his decision as the last few acceptance packages arrive in March. His preference is for a college environment where he can participate in hands-on research and fieldwork as he pursues his degree in Environmental Science, and possibly eventually working toward a Masters degree.
Past Recipients
| | | |
| --- | --- | --- |
| 2022 | Nick Spigler | Washington College |
| 2021 | Madelyn Padellaro | Merrimack College |
| 2020 | Casey Sheehan | Merrimack College |
| 2019 | Timmarie Gallagher | |
If you would like to support these programs please consider making a donation to New England PWIPM or the Mark Weintraub Scholarship Fund. Contact nepma@pestworld.org for more information or donate to the scholarship fund online here.